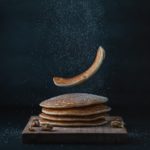 Ingredients
1 cup of wholegrain flower
1 tbs of raw brown sugar
2 tbs of baking powder or Cream of Tartar
Pinch of salt
1 cup of oat drink
3 handfuls of hazelnuts
1 tbs of raw cocoa powder
2 tbs of chocolate shake powder
1 dcl* of chocolate soy drink
Instructions
How to make the pancakes:
Mix the ingredients together, you can even add a pinch of cinnamon in case you like the flavour.
Pour the mass in a preheated pancakes pan and turn the pancakes twice until golden brown colour.
If you have an electric ceramic stove I put the temperature preferably on 6.
How to make the Homemade Nutella:
First blend the hazelnuts
Add all the ingredients (be careful when adding the chocolate soy drink) and blend all together so you will get a thick mass. If you see you need to add a bit more of the liquid do it carefully.
Leave it in the fridge for about an hour so it gets thicker and consume within 3 days when refrigerated.
Notes
I hope you enjoy this delicious recipe. We would be really happy to see your creation so, feel free to send it to info@sheerine.com and let us know what do you think about the recipe. Have a good day x