Hi there,
Thank you for stopping by 💕
I hope you are doing well and you are taking care of yourself! If needed, I hope you can find some help on my blog 🙏🏼
Today recipe is something I never made before and I am really happy about the results! I always look on Instagram/Pinterest for some inspiration and then I try to make my own version and so this is one of them 😊
Also, this time I was really excited as all the veggies are fresh from the market and the taste was amazing compared with the vegetables you find in the normal shops. If you live in London and you wonder where you can buy them just send me a message here or on Instagram (better) and I will give you all the information you need 😁
Are you ready to start cooking? Let's go!! 👩🏻‍🍳👨🏻‍🍳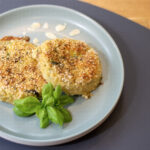 Ingredients
7 medium potato

3 eggs

2 courgette

1/2 shallots

brie cheese

260g of mushrooms

60g oat flour

50g ground almond

sesame seeds

Evo oil

salt, nutmeg and mixed herbs of your choice
Instructions
Few notes:
I didn't have oat flour so I made it myself grinding the oat flakes
Wet the baking tray with some Evo oil and pour some flour and sesame seeds in it
Before placing the stuffed potatoes in the oven, wet them with some eggs and pour some sesame seeds on the top.
What do you think? Aren't they amazing in look and taste? 😍
And what about the melted brie inside? Yummy!!! 😋
I hope you like this recipe and I will wait for your feedback! If you make them and if you want, post a picture on Instagram and tag my account. It really would help my small business growing 🙏🏻
Thank you so much for stopping by and I will see you for the next post!!
Have a great day and take care of yourself ❤️ 🧡 💛 💚 💙 💜
Sheerine x