Good Morning 🌈
Do you also smell this? What is it? Mmm…
Pretty sure there is some cinnamon around 🤫
Oh yes!! It comes from the cake!! Come closer and see what else is inside 👩🏻‍🍳
Ingredients
125g fat-free greek style yoghurt

150g whole grain flour

90g oat flour

50g brown sugar

2 eggs

1 apple

1 tbs of yeast

1 tbs of baking soda

1 handful of walnuts

100 ml oat drink

pinch of salt

cinnamon
And now? Time to cook! Grab all the ingredients and let's start ✌🏻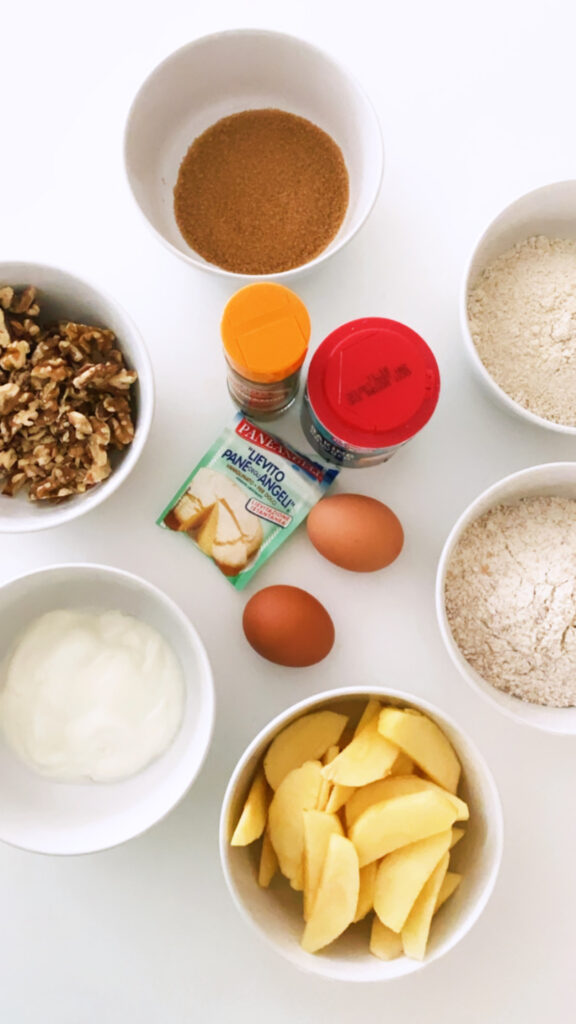 Nice and easy, isn't it?
I hope you like this versione of apple cake. I browsed a bit online different recipes and I edited them a bit.
Lots of them were using butter. Instead of that, I decided to use yoghurt to make it less calorific and enjoyable for everyone.
Also I think the walnuts inside give a nice crunchy taste 😃
Have a go and let me know how you like it!!
I wish you an amazing day and take care of yourself ❤️ 🧡 💛 💚 💙 💜 
Sheerine x