Hey there  🙂
How are you today? Have you got any plans? Do you have to go to work or you can enjoy your free time?
In any case, thank you for taking sometime to stop by my blog and I hope you like today's recipe!
I always try my best to make something good for me and for people around me so in this case also for you out there 😋
These choco-coco balls are so easy to make and they are a good/healthy snack to have during the day.
So if you are ready, take note about the ingredients you will need and let's do it 👩🏻‍🍳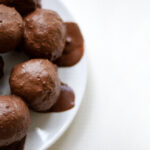 Ingredients
200g fat-free yoghurt

200g coconut flakes

1 ts of honey

1 cup of sugar-free coconut milk

1 dark chocolate bar
Never forget to let me know what do you think about the recipe 😀 It helps me to understand what do you like and to make the choices about the next recipes!!
I hope you liked this one as much as I did 😋 
I wish you an amazing day from London ( where it's a really nice sunny day) and I will see you all next Monday with another post on my blog!!
Stay tuned and take care of yourself ❤️ 🧡 💛 💚 💙 💜
Sheerine x