Avocado-Kefir homemade face mask – for all types of skin.
Hi there
Welcome back!
Are you excited about learning a new way of making your own face mask? 🤩
I am using this for myself for a few months and it's great! While the avocado is giving nice moisture to your skin, the kefir is helping the build-up of good bacterias on the skin' surface. This type of mask is suitable for any kind of skin but most for those skin presenting acne as the kefir will help a lot with that condition.
Are you ready to try?
Let's go!!!!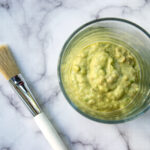 Ingredients
1/2 riped avocado

tbsp kefir

1 tsp raw honey
If you notice a tingling sensation it is totally normal; it's the kefir. But of course, if it's starting to burn just rinse it off.
Do not apply to scratched skin or scabs.
This recipe is for two uses so you can choose to leave it in the fridge for a day, two max and use it again or you can eat the remain 😋
Have a look at the benefits of this mask.
Benefits
Avocado: rich in vitamin C and E and antioxidant. You can read more about this here

https://www.sheerine.com/did-you-know/

Kefir: helo boosting the skin with good bacteria supporting healthy microbes on the skin.
Honey: a really good moisturiser that gives a more tickness to the face mask.
You can do this mask once a week with no problem. Usually, the mask is applied after doing a good exfoliation to the skin as it penetrates better.
You can have more information about the skincare routine here https://www.sheerine.com/importance-of-having-a-skincare-routine/.
Let me know what you think about this mask and I will look forward to seeing you here next week!
Have a look at my Instagram page for more content https://www.instagram.com/sheerinelifestyle/.
I wish you a lovely day and rest of the week ❤️ 🧡 💛 💚 💙 💜
Sheerine x