Here I am again talking about Tiramisù. Sorry but it's my favourite dessert so I couldn't not making it for my birthday.
This time I made a new style, a bit different and a bit green. The secret ingredients is Matcha Powder 💚
If you love matcha as much as I do and you want to try something different and a more delicate variant of Tiramisù this is right for you.
So make sure you have everything and let's begin! 😋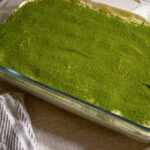 Ingredients
500g mascarpone cheese

200g pavesini biscuits

4 whole eggs

40g sugar

matcha powder
How amazing is it? So green, and smooth and light. I love it so much!
The first time I have tried this cake was when my sister brought me in this amazing Japanese restaurant in our little town called Pontedera (Italy) and I remember it soo good.
After that she promised me to make it at home and she did. It was really amazing.
So, on Monday the 15th was my birthday and as I am stuck in London with my family in Italy I decided to do it by myself and I am really proud of the outcome.
I really suggest you try it and let me know what do you think about it 😌
Have a good day and see you next week with something new ❤️ 🧡 💛 💚 💙 💜
Sheerine x